How green should loyalty programs become?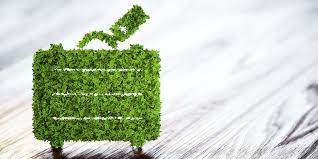 25 January 2022
The last few weeks have seen several programs push forward green initiatives in their loyalty programs. We examine them and ask the question how green loyalty programs should become (if at all) and what is behind these moves.
Much of the headline news went to Qantas for announcing its Green tier level in its loyalty program (to be launched in February) and Etihad with the launch of its Conscious Choices. But they were definitely other lower profile green initiatives before, although not necessarily called like that.
Sustainability as new topic
But why this dynamic in the space all of a sudden? It is no secret that sustainability has emerged as new society topic worldwide – including in markets like China, which one might not have considered the most sensitive one in such questions not so long ago -, impacting also the view on the travel industry. However you turn it, travel has the issue of not being sustainable. Yes, it might have only a minor contribution to emissions etc., but it has shifted to a bad light because a big part of the population views travelling – unlike heating or driving cars – as unnecessary activity. And as a matter of fact, they might even be right to a big extent in the same way you could think about any other leisure-type of activity. If you stayed at home, you'd probably produce less emissions.
While new technologies might reduce the problem a bit in a few years' time, the question for the industry is how to bridge that time gap and improve the awareness by the general public. The general idea is that travellers should not feel guilty when using services of travel companies – and that is how loyalty programs got involved as primary B2C communication channel.
Three different approaches
Thereby, three different approaches can be observed.
Redemptions: Using the currency for donations to green causes or to offset carbon emissions or finance other sustainable actions. This is actually nothing new and has been practiced by several programs, such as Lufthansa's Miles & More, for years.
Accrual: Incentivising green behaviour by a mileage accrual. For instance, SAS' EuroBonus members can opt to pay a surcharge to use sustainable fuel and earn loyalty points for that – by the way at the same rate as if they purchased points straight away.
Recognition: Both Etihad and Qantas take the concept to the recognition level, where members are rewarded for sustainable behaviour during their travels (e.g. by travelling light), but also in their everyday life (e.g. by installing solar panels). In the case of Etihad, they earn qualifying tier points, in the case of Qantas, they can attain a new (parallel) tier level, called Green (benefits have not yet been communicated as I am writing).
The question of honesty
As with any trendy topic, there are players understanding the topic and really looking into it while others might just follow the trend without clear plan – or even use it as disguise to pursue different objectives. Any true financial investment (as for instance with a new tier level) is obviously subject to the scrutiny of a business case, where one needs to understand how your business really benefits of it at the end of the day. In absence of sufficient empirical data, this exercise might not be that easy.
If you view the topic though only as opportunity for brand exposure or a cheap redemption channel at a low value per mile, you are most likely in the wrong starting blocks as this topic is too sensitive in the general opinion in order to be misused in such a sense.
Will it work?
How well will all this be received by travellers? Of course, there is nothing to say against any well-intended initiative, but ultimately, travelling remains a (more or less) unsustainable activity, whether sweetened at the level of the loyalty program or not. First step is hence that travellers are willing to accept that and to defend their personal choice.
Afterwards, these features are, as any other program element, to be understood as simple proposition, which will be relevant for a subset of members only – but potentially critical to those. They are certainly better received when members feel an honest commitment and engagement from their programs in that area rather than some mix of Me too approach and attempt of a commercial optimisation of the balance sheet. They should clearly be part of a transparent strategy at the corporate level rather than some stand-alone initiative.
What seems sure though is that the topic will gain of further importance in the near future, meaning that each loyalty program in its role as linking element between a company and its customers should look into the question and decide on a clear strategy and message. The line, for the program as well as for the company, between being perceived as honestly committed to the issue and just being fashionable is though thin – but it will make all the difference with an impact well beyond the loyalty-related elements whether your strategy will be successful or not.
Doing the wrong thing here can probably have a worse impact on your image than doing nothing at all. But the latter doesn't remain an option for long anymore for anybody either, reducing the practical options to only one: Getting it right, without pretending to want to change the planet. But to contribute the tiny piece every business and person can and should contribute towards a more sustainable future.