Resisting the temptation of devaluation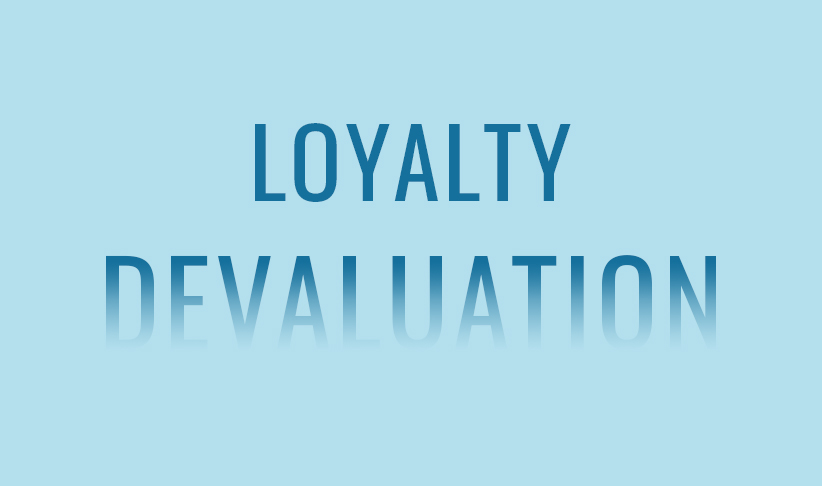 02 February 2021
Norwegian's announcement to suspend temporarily its Frequent Flyer Program comes as a shock to its members, but points to a dilemma many travel loyalty programs are facing these days. What is the best solution?
With the crisis lasting longer than expected in many parts of the world, all airlines and hotels find themselves in desperate need to generate cash. Either to fill any gap between real expenses and subsidies received or to make subsidies last a bit longer. Loyal customers are to play an important role in that context.
As if difficulties to find clients amid travel restrictions at all were not big enough, companies face the issue that the remaining few customers often sit on travel credits from previously cancelled bookings and/or piles of loyalty points they wish to redeem. While using such alternative means of payments reduces liabilities and has the same impact on the financial result than a cash sale, it generates nevertheless no cashflow, which is though vital in the current situation. While the quasi natural balance between reducing liabilities and generating cash works fine in normal times, there is a strong imbalance now.
Looking at Norwegian, operating only at a 1-digit figure of its previous capacity, the issue might be even more serious. First, its loyalty currency can be used as cash, with each loyalty point having a direct cash value. Secondly, the downsizing means that all members combined have probably enough points to pay for all Norwegian flights for a few months, potentially not generating any cash. That's why they've decided to pull the brake and maintain only accrual with non-air partners. And they've already warned about the likelihood that they are likely to introduce limits on the number of points that can be used per reservation once the program resumes normally
One could argue that all factors were converging against Norwegian and that they had no other choice. But the situation might deserve a closer look as many other travel loyalty programs face exactly the same issues, albeit at smaller scale.
The first question is how much you can count on the understanding of your members.
The short answer is probably not too much anymore in most cases. The industry has stretched the patience of the public too much with its refund policies, the practice to sell tickets on flights, which were almost sure never to operate etc. As a result, any drastic measure to limit the utility of the loyalty program or to devaluate it would only contribute to making customers lose the remaining confidence in the program. Which Norwegian Reward member would be willing to channel any partner activity to the program going forward (if an alternative exists), without any clear vision how and when he/she will be able to use these points?
But the main question is obviously why such 1-fits-all approach? Of course, it hurts more than ever when clients redeem today a premium cabin long-haul flight rather than paying a few thousands of dollars in cash. But the fact in most programs is that the average account balance across all members is a 4-digit figure – far from being able to redeem anything substantial. Likewise, most Norwegian Reward members are unlikely to have sufficient points to pay even a cheap 100 USD short-haul roundtrip flight entirely by points.
Norwegian has obviously pondered the pros and cons of that difficult decision, a decision between two bad scenarios. I personally don't doubt that they took the right decision, taking also into account the negative impact on loyalty of their members beyond the program suspension as it will take some efforts to win their confidence back.
But such measures – as the common increase of award prices for premium cabin long-haul travel across many programs – concern as a matter of fact only a small fraction of members. While the financial "objective" might be achieved with them, at least in the short term, 98% of members are not concerned, but view the program in a more negative light as a result.
Resisting the temptation to devalue the program proposition is difficult and yes, not everybody can afford to do the opposite and to actually enrich the loyalty proposition (there are though numerous examples of programs having opted for that road over the last few months, creating a competitive advantage like that). But if devaluation is really unavoidable, remember that we live in times of 1-to-1 marketing. Even if there is a devaluation after all, the outcome will certainly be different if you engage customers in such a relationship and work towards tailored and smart solutions, like guaranteeing to a top tier member the redemption of two Business Class tickets at a small surcharge in combination with one purchased ticket.
And on that journey, you may even discover how many of your "top" customers are actually no customers at all, but rather fraudsters. And that's where the true cost savings can set in while maintaining the bulk of your members, but also your managers happy – and protecting your reputation.
Destroying your reputation can be done very quickly. Re-establishing it is a lengthy and costly process you can probably not afford. Replace "your reputation" by "the loyalty of your customers" in that sentence and you get the picture. Being short-sighted has never been a good advice when talking about loyalty strategies.